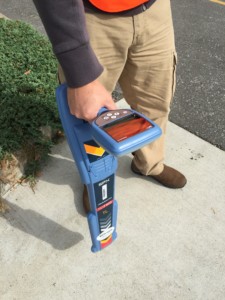 If your surveyor isn't able to simplify your project by also offering utility locate services, then you should call SOS. SOS is now offering underground utility locates on private land. Our technicians use electromagnetic radio detection equipment to mark underground utilities on your land to assist with engineering and design.
Of course, it's the law to investigate and mark any service networks like gas lines before excavation. Penalties for violating this law can be as high as $500,000 for corporations in Ontario, so it's definitely worth doing it right.
The technology focus that drives SOS allows us to take on new services and adapt to new equipment very quickly compared to our competitors.
We can detect metal pipes up to 10-15 feet deep or non-metal pipes fitted with tracer wire. Our technicians can locate gas, electrical, water and other cables. We mark the utilities with high-visibility paint and flagging.
The difference between our company and other utility locators is that two separate functions (utility locates and surveying) are blended with us. You don't need to manage two different companies on the construction site, because we do it all. We apply the same level of service and accountability that we bring to land surveying to this new service. SOS is usually able to handle a locate request within a two to three day time frame as compared to our competitors, who can take up to three weeks before they get on site.
Do You Have Any Unique Surveying Needs?
SOS is always looking to expand our services and offer exactly what your company needs. If we don't yet perform a surveying or related service that your company would benefit from, please let us know and we can discuss adding it to our already long list of capabilities. Our aim is to simplify your project— so let us know how we can help you.
In the future, remember to call us before excavation to avoid costly utility damage and dangerous accidents.